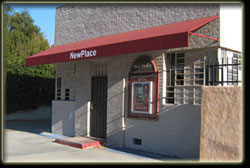 NewPlace Studio Theatre
NewPlace Studio Theatre is the new home of the Andak Stage Company, located just a half-block from its old home at NewPlace Theatre Center, which is scheduled to be replaced by a huge condo complex.
It is an intimate, 35-seat studio, ADA accessible, with heating and air conditioning, and a gated lot, along with plenty of on-street parking.
The address is 10950 Peach Grove St., North Hollywood, CA 91601-4652, one block north of the Camarillo, Vineland, Lankershim intersection in the NoHo Arts District.