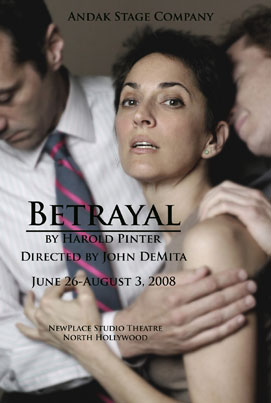 ANDAK STAGE COMPANY
presents the 30th anniversary production of
Betrayal
Written by Harold Pinter
OPENING Saturday June 28th, 2008
at
NewPlace Studio Theatre in the NoHo Arts District
---

---
---
Cast & Company

Nike Doukas
Emma
Nike Doukas (Emma) has appeared in leading roles for the Mark Taper Forum, Old Globe Theatre, South Coast Rep, Berkeley and Santa Cruz Shakespeare Festivals, among many others. Most recently she was seen locally in Howard Korder's The Sea of Tranquility at the Old Globe and Beth Henley's Ridiculous Fraud at SCR. Her TV appearances include recurring roles on Desperate Housewives and Almost Perfect.

Leo Marks
Robert
Leo Marks (Robert) has appeared in leading roles locally for South Coast Rep, Pasadena Playhouse, and the Kirk Douglas Theatre. Most recently he has appeared in The Joan Rivers Show at the Geffen Playhouse and Defiance at Pasadena Playhouse. He has worked extensively at the Evidence Room, and recently appeared in Tale of 2Cities in L.A. and New York. His television appearances include Prison Break, The Practice, and NYPD Blue. Locally he has appeared in leading roles with Pasadena Playhouse, South Coast Rep, and A Noise Within.

Dan Reichert
Jerry
Dan Reichert (Jerry) last appeared with Andak in The Misanthrope. He also appeared with the Denver Center Theatre Company, The Intiman Theatre, and the American Conservatory Theatre, where he received his MFA. His TV and film appearances include Batman Forever, Judging Amy, Charmed, and Days of Our Lives.

Harris Matthews
Waiter
Harris Matthews (Waiter) last appeared with Andak Stage Company in The Misanthrope. He is a graduate of Cal/Arts and recently appeared onstage in a musical adaptation of The Hunchback of Notre Dame for Crown City Theatre.
---

John DeMita
Director
Director John DeMita has helmed over twenty 20 productions, including the multi-award nominated Southern California premiere of Martin Crimp's The Misanthrope at Andak Stage Company, and As You Like It at the Vital Express Center. His credits include work at the Antaeus Company, the Geffen Playhouse, Pacific Resident Theatre, ACT, Seattle's Intiman Theater, the Oregon Shakespeare festival, and the Williamstown Theater Festival. In addition, he was a series regular on Comedy Central's The Clinic, and has guest-starred in numerous films, and television shows which include CSI, Eyes, and four seasons on the CBS series JAG. As a voice actor he was the voice of action star Jet Li in 11 movies.


Dean Cameron
Set Design
Dean Cameron (Set Design) long noted for his garish, and outlandish set designs cleverly caught theater audiences by surprise with his well-heeled design for Andak Stage Company's award nominated production of The Misanthrope.