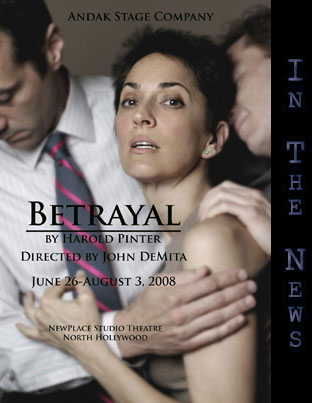 The Show • Cast & Crew • In the News • Photo Gallery

---
Andak Stage Company - Official Press Release
ANDAK STAGE COMPANY
presents the 30th anniversary production of
"BETRAYAL"
Written by Harold Pinter
OPENING Saturday June 28th, 2008
Running Thursdays-Saturdays at 8:00 pm with matinees on Sundays at 2:30 pm
Los Angeles, CA - The Andak Stage Company announces the 3rd slot for their 2007/2008 season to be filled with the 30th anniversary production of Betrayal. This production follows two other plays by celebrated 20th century British playwrights - David Hare's The Bay At Nice and Martin Crimp's The Misanthrope.
We begin at the end... the nine-year love affair between a literary agent and his best friend's wife unravels in reverse chronological order. However, hindsight is anything but 20/20 for each of these characters. The stakes are high for two families and three relationships as Pinter explores issues of fidelity, reproduction, friendship, betrayal, and unfathomable human behavior.
Dakin Matthews and Anne McNaughton will produce this 30th anniversary production of Betrayal which will be directed by John DeMita. It will star three of the busiest and most respected stage actors in Los Angeles, Nike Doukas, Leo Marks, and Dan Reichert, with Harris Matthews in support. Andak Stage Company has been in existence for four years. They opened their first season with the West Coast premiere of Agustín Moreto's Spite for Spite in 2004 which went on to receive the Walker Reid Award in the category of "Translation" and the Franklin G. Smith Award for the "Production" category at the Siglo de Oro Festival. Since then Andak Stage Company has produced five world premieres, three Los Angeles premieres, including three original plays and two new classical translations, garnering several more award nominations and four additional awards for playwriting, translation, acting, and production. In its third season (2007/2008) the Company broke new ground by presenting the critically acclaimed Southern California premiere of David Hare's The Bay At Nice and Martin Crimp's adaptation of The Misanthrope (LADCC, LA Weekly Award nominations). Betrayal is ASC's ninth production.
BETRAYAL opens Saturday, June 28, 2008 and runs through Sunday, August 3, 2008. Performances at the New Place Studio Theatre, 10950 Peach Grove Street in North Hollywood, CA 91601, will be Thursdays through Saturdays at 8:00 pm with matinees on Sundays at 2:30 pm. Tickets are $ 25 and may be purchased by calling (866) 811-4111 or on-line through www.theatermania.com or a link on www.Andak.org.
---