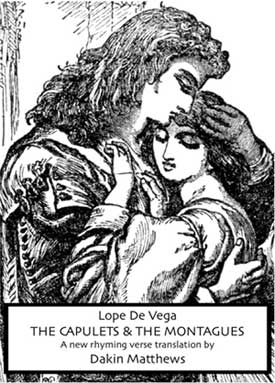 ANDAK STAGE COMPANY
Presents
The Capulets and the Montagues
a modern rhyming verse translation of Lope de Vega's Romeo and Juliet play
Directed by Anne McNaughton
Translation by Dakin Matthews
OPENING WEEKEND January 29 & 30, 2011
at
NewPlace Studio Theatre in the NoHo Arts District

---
The Show • Cast & Crew • In the News • Photo Gallery
---
Cast & Company

John Achorn
Capulet
John Achorn(Capulet) is an actor, director, and teacher. He is a master teacher of the commedia dell'Arte, which he studied under the late Carlo Mazzone-Clementi, and with whom he helped found the noted Dell-Arte School in Humboldt County. LA stage: The Importance of Being Earnest (LA Women's Shakespeare), The Arsonists (Odyssey), Golden State (Dell'Arte/24th Street), Fafalo! (Ziggurat), Master Class and The Wood Demon (Mark Taper), La Bête (Stages/John Anson Ford), Mercadet, Mysteries and Mayhem, and Norman Corwin's The Plot to Overthrow Christmas (The Antaeus Company), Bullshot Crummond, Footlight Frenzy (Low Moan Spectacular), plus productions at the Virginia Avenue Project, Powerhouse, Padua Hills Playwrights Festival, The Magic Theatre (S.F.). Film & TV: Born Yesterday, Book of Love, Night of the Comet, Talk Show With Spike Feresten, Days of Our Lives, McBride, Lazarus Man, Quantum Leap, and the role of Don Kipper on CBS' Bailey Kipper's P.O.V. He has been seen in numerous commercials, and done voice work in many films. John is also currently teaching various classes at Santa Monica Emeritus College and the Virginia Avenue Project. He has also taught acting and directed at University of Redlands, UCLA, UC Riverside, UC San Diego, UC Santa Cruz, and the American Academy of Dramatic Arts. Current projects include a documentary on Carlo Mazzone-Clementi, and the translation & adaptation of A Sensible Girl, a comedy written in 1692 by Jean de Palaprat for the Theatre Italien in Paris. He is a long-standing member of The Antaeus Company.

John Apicella
Montague/Prince/Belardo
/Fabio/Silvio
John Apicella (Montague/Prince/Belardo/Fabio/Silvio) most recently played "Don Marquis" in the operetta Archy And Mehitabel at The Yard on Martha's Vineyard. Past theatre work includes The Imaginary Invalid, Glengarry Glen Ross, and The First Picture Show at San Francisco's A.C.T., Vaclav Havel's Temptation and Largo Desolato, and Chekhov's The Wood Demon with the Center Theatre Group. Recent Los Angeles appearances include a musical adaptation of Aristophanes' The Wasps at the Getty Villa and the Lost Studio, a new musical version of Lynn Seifert's Little Egypt art the Matrix, and a revival of Odets' The Big Knife at the Lillian Theater. John is a founding member of the Antaeus Company: Antaeus appearances include The Wood Demon, Chekhov X 4, Patience, Trial By Jury, The Liar, Mercadet, The Proof Of The Promise, Mother Courage And Her Children, and the first American revival of Arthur Miller's 1944 Broadway debut The Man Who Had All The Luck. His many television and film appearances include features such as High Crimes, Point Break, and Just One Of The Guys, and TV shows including "Brothers and Sisters," "Bones," "The West Wing," "The X-Files," and "Friends."

Brett Colbeth
Benvolio/Captain/Lucio
Brett Colbeth (Benvolio/Captain/Lucio) is thrilled to be a part of The Capulets and the Montagues! He was last seen in the Circus Theatricals production of Last Fling as well as Bart De Lorenzo's critically acclaimed King Lear with Dakin Matthews. Currently, he is a member of Antaeus Theatre Company's A2 (The Academy Company). Brett is a company member of Shakespeare and Friends, which brings Shakespearean productions to Long Beach schools twice a year. When he is not performing, Brett indulges in his second passion--graphite pencil drawing. He recently received his first commission. Brett wishes to thank Actors' Equity, Dakin Matthews, and Anne McNaughton for this wonderful opportunity, his family, friends, peers, and last but not least Mom, Dad, and Jackie for their unending love and support! Enjoy the show!

Etta Devine
Celia
Etta Devine (Celia) recently co-starred in and co-produced the independent feature The Selling. Her web series "Mary Olson" has over a million hits on youtube and is in development for a second season. She is a member of the Antaeus Theatre Ensemble's A2 company and is half of the comedy duo Diani & Devine.

Drew Doyle
Fesenio/Loreto/Lidio
/Celio/Fernando
Drew Doyle (Fesenio/Loreto/Lidio/Celio/Fernando) is pleased as punch to be working along side such wonderful actors at the Andak Stage Company. His recent credits include Oswald in Antaeus' King Lear, Flute in A Midsummer Night's Dream, and W.S. Van Dyke as the host of the A2 Radio Theatre Company. Drew is a Los Angeles native, weird…right? As always, he would like to thank his lovely wife Paige for anything and everything.

Bruce Green
Marín
Bruce Green (Marín) is a Hollywood character actor and itinerant stage actor. Favorite roles include Friar Laurence in another humorous re-telling of the Romeo and Juliet story, The People Vs. Friar Laurence, The Man Who Killed Romeo and Juliet. That play has recently been published by Samuel French. Bruce is a veteran of the Second City Chicago and studied classical theatre at the Antaeus Academy. Television credits include "Parks and Recreation". Film credits include being shot by Rooster Cogburn for clucking like a chicken in the Coen brothers' remake of True Grit. Proud member of Actors' Equity.

Jerry Hoffman
Tybalt/Rutilio
Jerry Hoffman (Tybalt/Rutilio) has worked in every performance medium for a LONG time! He has appeared in theatrical productions from coast to coast and internationally, recently returning from six months at the Tuacahn Center for the Arts in Southern Utah, where he was seen as Professor Porter in the regional premier of Disney's Tarzan, the Musical, as Bustopher Jones and Gus the Theatre Cat in Cats, and as Everett Baker in Crazy for You. He has been in hundreds of national television commercials over the years. His television appearances range from "Gunsmoke" (136 years ago), to "Boston Legal" (last year). Film work spans back from The First Nudie Musical (really!) starring Cindy Williams, and The Ratings Game with Danny Devito and Rhea Perlman, to Fate, directed by Dan Sheldon, and Ben Banks, directed by Bryce Clark, both set to be released later this year.

Kellie Matteson
Dorothea/Silvia/Tamar
Kellie Matteson (Dorothea/Silvia/Tamar) has been working primarily with Antaeus Company for the five years she's been in LA. She was part of the Ovation nominated Cousin Bette, the first production of their inaugural season. Other Antaeus favorites include The Learned Ladies, The Merry Wives of Windsor, La Ronde, Stage Door, The Rover, and Chekovia. Other theatre: LA Theatreworks, Celebration Theatre, Crown City Shakespeare Co., and the Jewish Ensemble Theatre in Detroit; she also presented new works with Holly Hughes at the Guggenheim, NYC. Film: GI Joe. You can also see Kellie at UCB these days attempting to be funny. Sometimes it works. She's a proud member of Actors' Equity and the Antaeus Academy Company.

R. Scott Thompson
Octavio/Paris
R. Scott Thompson (Octavio/Paris) is thrilled to be a part of this production of The Capulets and the Montagues. R. Scott performed in the reading of this production as well as Peace in Our Time during the 2010 ClassicsFest at Antaeus. Other credits include Forum, 110 In The Shade, Grand Hotel, Mack and Mabel, Sweeney Todd, Company, and the World Premieres of Michael John La Chiusa's The Highest Yellow and Kander and Ebb's Over and Over (The Signature Theatre); Shakespeare's R & J (Folger Shakespeare Theatre); She Loves Me (Olney Theatre Center); The Weir (Round House Theatre); Company (Huntington Theatre); and Tom in the World Premiere of The Adventures of Tom Sawyer at the Kennedy Center. R. Scott received his BFA in Acting from Boston University's School For the Arts. Thanks to my family, friends in the East and friends in the West, for their tremendous love and support.

Benny Wills
Romeo
Benny Wills (Romeo) is a recent graduate from the University of California, Irvine, where he earned an MFA in Acting. Los Angeles credits include Cousin Bette (Antaeus Co.) and The Good Woman Of Setzuan (Open Fist Theatre Co.). He has also performed internationally with the clown troupe, CLOWNZILLA. Other favorites include: Hamlet (Laertes), Twelfth Night (Andrew Aguecheek), Romeo & Juliet (Paris), Take Me Out (Shane Mungitt), The Glass Menagerie (Gentleman Caller), and Endgame (Hamm). He is a proud member of Actors' Equity Association and Screen Actors Guild.

Nicol Zanzarella-Giacalone
Juliet
Nicol Zanzarella-GiacaloneNicol Zanzarella-Giacalone (Juliet) is a proud member of the Antaeus Academy Company, A2, and NY's Ensemble Studio Theatre. Theatre credits include: Cousin Bette, Stage Door, Classicsfest 2010 (The Antaeus Company), Richard III (The Charlens Company), Swingin' with Petula (Ensemble Studio Theatre LA/Studio 6), Romeo and Juliet (Princeton Rep), The Winter's Tale (Stonington Opera House), Henrietta Hermaline's Fall From Great Heights, Danny and the Deep Blue Sea (Ensemble Studio Theatre), and Arthur Miller's Clara (Alumni Theatre Westchester). Film credits include: Home (nominee Best Actress and winner Best Feature at Trenton Film Festival), Too Much Sleep (nominated Independent Spirit Award), Zig Zag, Manhattan Chase, Lower than the Angels.
---

Dean Cameron
Costume Designer, additional scenic design elements
Dean Cameron (Costume Designer, additional scenic design elements) has been designing sets and costumes for thirty years at various venues all over the Southwest, including the Arvada Center for the Arts and Humanities, the California Institute of the Arts, The Nevada Shakespeare Festival, and the Pasadena Shakespeare-in the-Park Festival. He has served several times as Propmaster at the Fountain theater in Hollywood, as has worked as a costume sketch artist for the Crystal Cathedral's production of "Creation" and for the 1998-9 Ringling Brothers Barnum and Bailey Circus. His forthcoming costume illustration book, Character Croquis, will be edited by the end of this year. This is his tenth designing assignment for Andak Stage Company.

Michael R. Cook
Set Designer
Michael R. Cook (Set Designer) has been designing and directing professionally, in and around the San Francisco Bay Area, for the past 30 years. He has designed for many theaters in the Bay Area, including the Berkeley Shakespeare Festival (Resident Designer and Production Manager — 8 years), California Shakespeare Festival, San Jose Rep. (Resident Designer — 3 years), Shakespeare at Paul Masson (VITA — Resident Designer - 4 years) and St. Mary's College (Resident Designer — 22 years). He has also been a Guest Designer for CAT (California Actors Theatre), Contra Costa Music Theatre, The Attic Theatre, Saratoga Chamber Theatre, Berkeley Jewish Theatre, San Jose Stage Company, Sunnyvale Repertory Theatre, Solano College, and Tao House among others. Michael is a professional stage manager and tour manager and has tour managed in Europe, United States, and Canada. Michael's two most recent directing assignments were City Of Angels and A Funny Thing Happened On The Way To The Forum, both staged and produced at Diablo Valley College. He now home bases out of Saint Mary's College of California, where he teaches and is the resident Scenic and Lighting Designer for the Performing Arts Department. He is also the theatre manager, in charge of all the technical aspects of running the space. Michael is the recipient of the "Freeman Award" from the Eugene O'Neill Foundation in Danville, California. He is a proud member of Actors' Equity Association. Michael created, produces, and directs the January Term Children's Theatre Program at Saint Mary's College, now in its 18th season. Six years ago, Michael toured around the country, with a one-man show he wrote and performed called "Saint John Baptist De La Salle — Journey Of A Man". Michael is also a sculptor and just closed his show of "portraits," presented by the Library at Saint Mary's College. He is currently working on a project sculpting most of the early members of the Berkeley Shakespeare Festival actors and staff members, including Dakin Matthews and Anne McNaughton.

Katherine E. Haan
Stage Manager
Katherine E. Haan (Stage Manager) has worked as a Stage Manager, Assistant Stage Manager, Sound Op, Props Designer, and general Gal Friday at theatres around Los Angeles since graduating from Occidental College in 2007. She is thrilled to be a part of this production. Many thanks to all involved.

Peter Katona
Fight Director
Peter Katona (Fight Director) has almost 14 years of training in theatrical violence. In 2001, upon graduating from the Yale School of Drama with an MFA in Acting, he became professional assistant to top Broadway and YSD combat instructor/fight director Rick Sordelet. Peter received a Fox Foundation Grant to study Ancient Italian Rapier fencing in Italy and Peking Opera Martial Arts Sword dancing in China. Besides working on films and TV, he has been fight director on shows at: The Atlantic Theatre, The Vineyard Theater, Williamstown Theatre Festival, Yale Rep, and has worked as sword coach at The Metropolitan Opera. Peter was an assistant Fight Director on numerous Broadway and Off-Broadway shows. He was the substitute Combat Instructor at Yale and at the Neighborhood Playhouse from 2001-2005 and has also taught internationally at the T.I.T.A.N International Theater School in Norway. Peter is grateful to be working with Dakin again.

Dakin Matthews
Co-Producer, Translator, Male Understudy
Dakin Matthews (Co-Producer, Translator, Male Understudy) is the Artistic Director of Andak Stage Company and appeared in its productions of Spite for Spite, San Fran Scapin, The Prince of L.A., A Magic Christmas, and The Misanthrope. He is also the founding Artistic Director of the Antaeus Company and appeared in its productions of Of Mice and Men, The Wood Demon, Mercadet, Chekhovx4, The Proof of the Promise, The Liar, and King Lear. Broadway: A Man For All Seasons, Henry IV (Bayfield, Drama Desk Awards). Off-Broadway: Freedomland (Playwrights Horizons); The School For Scandal, The Hostage, The Lower Depths, Women Beware Women (Acting Company). Regional: The Winter's Tale, The Cherry Orchard (Bridge Project at BAM); Much Ado About Nothing, Julius Caesar (Shakespeare Center LA); Misalliance, Hitchcock Blonde, Hamlet, Major Barbara, Shadowlands (South Coast Rep); The History Boys, Stuff Happens, Water & Power, Romeo and Juliet, The Real Thing (CTG); The Prince of L.A., Twelfth Night, The Merry Wives of Windsor, Coriolanus, A Midsummer Night's Dream (Old Globe); Cat on a Hot Tin Roof (Dallas Theater Center); Hamlet (Shakespeare Theatre, D.C.) King Lear (PICT). Screen: Over 25 films (including recently True Grit) and 250 television shows. This is his sixth verse translation of 17th century Spanish plays.

Anne McNaughton
Director, Co-Producer
Anne McNaughton (Director, Co-Producer) is the former Artistic Director of the Valley Shakespeare Festival and a founding member of the Andak Stage Company, the Antaeus Company, and John Houseman's Acting Company, for which she directed U.S.A. off-Broadway. She was a Resident Director at San Jose Rep, California Actors Theatre, Berkeley Stage Company, and Berkeley Shakespeare Festival, and taught and directed in the American Conservatory Theatre's advanced training program. She is a member of the first graduating class of the Juilliard Drama Division and holds a graduate degree in directing from Stanford University. She directed the Andak Stage Company's inaugural production of Spite for Spite, as well as subsequent productions of The Prince of L.A., The Savannah Option, A Magic Christmas, San Fran Scapin, Don Juan, The Bay at Nice, The Letters, and Liberty Inn. She recently re-staged The Prince of L.A. at the Old Globe Theatre in San Diego, where she had previously directed Collected Stories and co-directed Julius Caesar. Her award-winning productions in the San Francisco Bay Area include Who's Afraid of Virginia Woolf, Richard III, Artichoke, and Letters Home. Most recently, she directed Twelfth Night for Company Rep, and The Liar, The Proof of the Promise, Trial By Jury, and The Will for the Antaeus Company.

Kate Olivier
Associate Producer
Kate Olivier (Associate Producer) recently received her M.F.A. from USC's School of Cinematic Arts after an undergraduate career studying theatre and experimental media. She has assisted with numerous Shakespeare plays and Restoration comedies for directors such as Paul Whitworth, PJ Paparelli, Mike Ryan, and Kirsten Brandt. Her own directing credits include Self Torture and Strenuous Exercise, This Is Our Youth, and an adaptation of The Circle by Somerset Maugham. Film credits include The Good Life, a documentary about professional skateboarders, and everything, all at once. She has been a Sundance Screenwriters Lab finalist and an Academy of Motion Picture Arts and Sciences grantee, and she is currently working on an ensemble-based feature. She is the Director of Development at Stella Adler-Los Angeles, and she is delighted to assist with this production for the Andak Stage Company.

Peter Strauss
Lighting Designer
Peter Strauss (Lighting Designer) designed lights for previous Andak productions of The Letters, Betrayal, The Bay At Nice, The Misanthrope, and Liberty Inn. He has been active in the NoHo theatre scene for over two decades, and is the operator of the Raven Playhouse