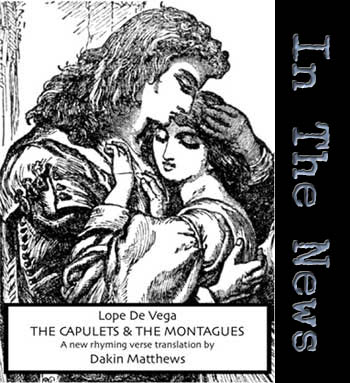 The Show • Cast & Crew • In the News • Photo Gallery

---
Back Stage - THEATER
- by Dany Margolies (2/2/2011)
Sometimes the most complex art gives the feeling of breezy ease. In a way it's a shame that, while we're watching this blissfully charming production, we don't think of the work that went into it. The likely reasons are the expert hands that polished every element and the way those hands cared about the audience's experience without underestimating said audience, so we see more product and less ego.
The charm begins with Dakin Matthews' translation of Lope de Vega's script, itself based on the source material Shakespeare used for his play. This version is less "Romeo & Juliet" and more "Romeo & Ethyl the Pirate's Daughter," full of humor as old as language. Matthews writes in rhyming verse, the meter allowing four stressed beats and any number of unstressed per line, which itself tickles the brain.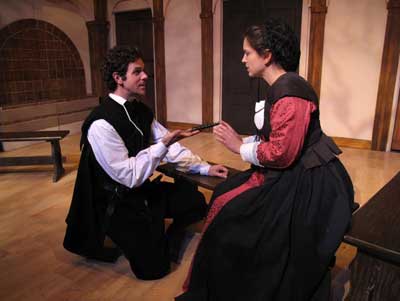 ---
LA Times - Entertainment - Culture Monster Blog
- F. Kathleen Foley (2/3/2011)
If you ever wished that Juliet woke just a minute or two earlier and hied off with Romeo to a honeymoon villa in Calabria, you will find your fantasy fulfilled in "The Capulets and the Montagues," Lope de Vega's rarely produced comedy, presented by the Andak Stage Company at the NewPlace Studio Theatre.
---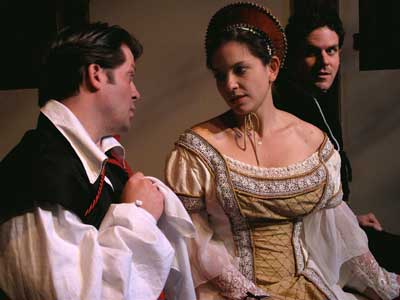 LA Theatre Review - Reviews
- by Geoff Hoff (2/5/2011)
Two warring families in old time Verona. One has a son, rather a rake, the other a beautiful daughter. They meet and fall in love at a party he wasn't supposed to attend, but the animosity between the families forces them to restrict the rest of their meetings to secret trysts in a garden. They marry in secret, he kills one of her kinsman and is banished and the holy man who marries them gives her a vial filled with a potion that will put her into a deathlike sleep.
Sound familiar? No, it's not Shakespeare's Romeo and Juliette, although it was written about 400 years ago and drew from the same source as the Bard's play. This one is called The Capulets and the Montagues (Castelvines y Monteses in the original Spanish) and was written by Lope de Vega, who was born in Spain perhaps a year or so before Shakespeare and wrote this play perhaps ten years after Shakespeare attacked the same subject. Oh, and it's a comedy.
---
laist.com - Arts & Events
- by Terry Morgan (2/3/2011)
Most theatergoers are familiar with Romeo & Juliet, and by now the classic tragedy has been performed and adapted to death. Well, at least the Shakespeare version has. Spanish playwright Lope de Vega, a contemporary of the Bard, wrote his own version from the same source material--and it's very different. It's funny, for example. It has a happy ending, for another.
Translator Dakin Matthews has done theatre a great service by bringing this obscure but worthy play back to life, and the current production of The Capulets & the Montagues by the Andak Stage Company at the NewPlace Studio Theatre is a rare and fascinating treat.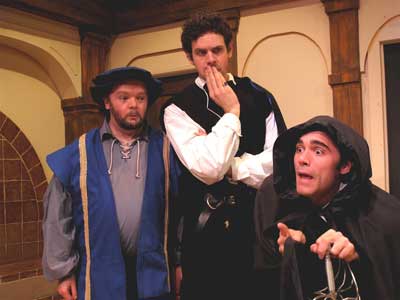 ---