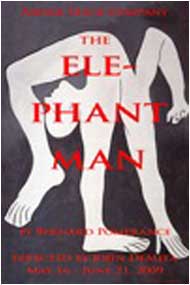 ANDAK STAGE COMPANY
Presents
The Elephant Man
By Bernard Pomerance
Directed by John DeMita
OPENING Saturday May 16th, 2009
at
NewPlace Studio Theatre in the NoHo Arts District
---

---
The Show • Cast & Crew • In the News • Photo Gallery
---
Cast & Company

Dan Reichert

Dan Reichert appeared with Andak in Betrayal and The Misanthrope. He also appeared with the Denver Center Theatre Company, The Intiman Theatre, and the American Conservatory Theatre, where he received his MFA. His TV and film appearances include Batman Forever, Judging Amy, Charmed, and Days of Our Lives.

Andrew Matthews

Andrew Matthews appeared with Andak Stage Company in Spite for Spite, San Fran Scapin, A Magic Christmas, Don Juan, and The Prince of L.A. He has an MFA from the Classical Acting Academy at The George Washington University, and has performed at South Coast Rep, the Old Globe, and Kingman Shakespeare Festival.

Norman Snow

Norman Snow appeared with the Andak Stage Company in The Letters The Misanthrope. He has appeared in 12 shows on Broadway and extensively in regional theatre, including South Coast Rep, Pasadena Playhouse, and the Mark Taper Forum. He was a founding member of John Houseman's Acting Company and the Antaeus Company.

Brian George

Brian George appeared in Andak's productions of The Misanthrope and Don Juan. He is a Second City alumnus and has been seen on stage in Los Angeles in Stuff Happens (Mark Taper Forum), A Perfect Wedding (Kirk Douglas Theatre), and Speaking in Tongues (Open Fist Theatre). Film credits include Roxanne, Keeping the Faith, Ghost World, The Prime Gig, Bubble Boy, Touch of Pink, Employee of the Month, Numb, and Shades of Ray. Television credits include Seinfeld, Star Trek DS9 and Voyager, Live from Baghdad, and the Showtime mini-series Traffic.

Abby Craden
Katie Graham
Max Quill
Michael Quill
Aandrea Reblynn

Abby Craden. Katie Graham, Max Quill, Michael Quill, and Aandrea Reblynn are all making their Andak Stage Company debuts with The Elephant Man.
---

John DeMita
Director
John DeMita has directed over twenty productions, including most recently Martin Crimp's critically acclaimed The Misanthrope for Andak Stage Company and As You Like It at the Vital Express Center in Valencia. As an actor, he appeared in the Andak Stage Company world premiere production of A Magic Christmas. He has also performed with the Antaeus Company, and at the Geffen Playhouse, American Conservatory Theater, Seattle's Intiman Theater, the Oregon Shakespeare Festival, and the Williamstown Theater Festival, among others. On television, he played Marine Colonel Clifford Blakely for the final four seasons of the CBS series JAG. In addition, he was series regular on Comedy Central's The Clinic, and has guest-starred in numerous films and television shows, most recently CSI and the short-lived series Eyes. As a voice actor he has played roles in Disney's Lilo and Stitch, Kiki's Delivery Service, Princess Mononoke, Spawn, Aeon Flux, and Final Fantasy: The Spirits Within, and was the voice of action star Jet Li in 11 movies.


Staff

Sets: Steven Markus.
Costumes: Kim Deshazo Wilkinson.
Lights: Dan Volonte.