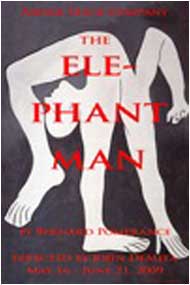 ANDAK STAGE COMPANY
Presents
The Elephant Man
By Bernard Pomerance
Directed by John DeMita
OPENING Saturday May 16th, 2009
at
NewPlace Studio Theatre in the NoHo Arts District
---

---
The Show • Cast & Crew • In the News • Photo Gallery
Opens: Saturday, May 15, 2009 at 8:00pm, with reception to follow
Previews: March 14 & 15, 8:00pm
Plays: Thursdays, Fridays, and Saturdays at 8:00pm; Sunday matinees at 3:00pm
Closes: Sunday, June 21, 2009
Ticket price: $25; group, senior, student, and industry discounts available.
Reservations: Call (866) 811-4111 or purchase online. No service charge to ticket buyers.
Location: NewPlace Studio Theatre - 10950 Peach Grove St., N. Hollywood, CA 91601
Amenities: ADA accessible. Gated lot and street parking. Excellent restaurants nearby.
Press Contact: Judith Borne (310) 305-7888
---
The Play: An award-winning drama, based on the true story of Joseph Merrick (called John Merrick in the play), a hideously deformed young man who lived in England in the Victorian era. Merrick spent some time in a freak show before he was befriended and rescued by London physician Frederick Treves and became something of a celebrity. He died at the age of 27.
Playwright: Bernard Pomerance was born in Brooklyn in 1940 and educated at the University of Chicago. In his early thirties he moved to London and began working in theatre there. His first play, The Elephant Man, was produced in London in 1979, and was later made into a Hollywood film. He wrote two more plays — Quantrill in Lawrence (1980) and Melons (1985) — and a novel — We Need To Dream All This Again (1987).
Director: John DeMita has directed over twenty productions, including most recently Martin Crimp's critically acclaimed The Misanthrope for Andak Stage Company and As You Like It at the Vital Express Center in Valencia. As an actor, he appeared in the Andak Stage Company world premiere production of A Magic Christmas. He has also performed with the Antaeus Company, and at the Geffen Playhouse, American Conservatory Theater, Seattle's Intiman Theater, the Oregon Shakespeare Festival, and the Williamstown Theater Festival, among others. On television, he played Marine Colonel Clifford Blakely for the final four seasons of the CBS series JAG. In addition, he was series regular on Comedy Central's The Clinic, and has guest-starred in numerous films and television shows, most recently CSI and the short-lived series Eyes. As a voice actor he has played roles in Disney's Lilo and Stitch, Kiki's Delivery Service, Princess Mononoke, Spawn, Aeon Flux, and Final Fantasy: The Spirits Within, and was the voice of action star Jet Li in 11 movies.
Cast: Dan Reichert, Andrew Matthews, Norman Snow, Brian George, Abby Craden, Katie Graham, Max Quill, Michael Quill, and Aandrea Reblynn.
Staff: Sets: Steven Markus. Costumes: Kim Deshazo Wilkinson. Lights: Dan Volonte.
The Show • Cast & Crew • Company • In the News • Photo Gallery