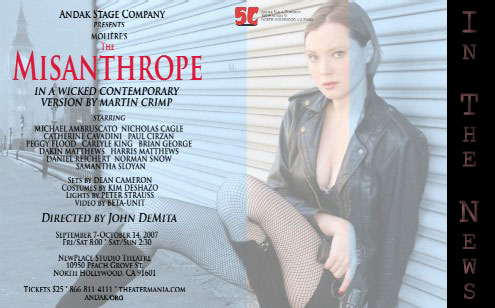 The Show • The Cast • In the News • Photo Gallery

---
ReviewPlays.com - THEATER
- by Cynthia Citron (9/2007)
In France in the 17th century, polite society was...um, POLITE. (A far cry from French society's characteristic image only four centuries later!) Fawning, flattery, and fulsome compliments were de rigeur. Warm embraces, kisses on both cheeks, exclamations of delight accompanied every greeting. Followed by salacious comments, malicious mockery, and bloody character assassination when the avowed friend had left the room.
Refusing to embrace the hypocrisies of the time, the playwright Alceste became an irascible scold by speaking only the truth, as he saw it. The fictional Alceste was, arguably, the alter ego of the popular playwright Moliere, who immortalized the character and the opinions of this societal contrarian in his 1666 play, "The Misanthrope".
Now, in a brisk translation by Martin Crimp, this venerable chestnut has been reworked for modern times and has lost none of its delightful verbiage. Nor its still-relevant message.
Nick Cagle plays the habitually outraged Alceste with unremitting anger, especially toward the beautiful, flirtatious Jennifer (Samantha Sloyan), whom he professes to love. She claims to love him, too, although why she would remains a mystery. With his icy cynicism he is hardly a lovable character, while she, on the other hand, is loved by everybody. Which is where his problem lies.
Jealous of everyone, Alceste treats her brutally, while her fashionable friends and would-be lovers gather in her apartment to share bitchy gossip. She treats them all lovingly, much to Alceste's disgust, but in the end she inadvertently reveals her true feelings for them, which aren't much different from his.
---
City Beat Review - THEATER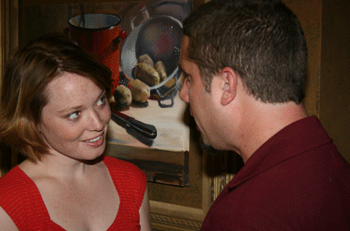 Photo by John DeMita
- by Don Shirley (9/20/07)
Martin Crimp's 1996 adaptation of Molière's evergreen comedy - set in a modern London hotel suite - uses up-to-date English, including several choice profanities rendered in rhyming couplets. The title character is a disdainful playwright, Alceste (Nick Cagle), who's furious over the various hypocrisies and dishing indulged in by his young American girlfriend Jennifer (Samantha Sloyan), a sizzling movie star of the moment, and her entourage. By contrast, Alceste insults an oily critic and would-be playwright (Norman Snow or Dakin Matthews) to his face. This Andak Stage Company production in a tiny space, no bigger than a real hotel suite, features a superb cast. Director John DeMita added apt video clips reflecting contemporary media madness, although the transformation of a print interview into a video segment makes Jennifer's professed shock that her words were misused somewhat less credible than intended.
New Place Theatre, 10950 Peach Grove St., North Hollywood, (866) 811-4111. Theatermania.com. Fris.-Sats. at 8 p.m.; Suns. at 2:30 p.m. Closes Oct. 14.
---
LA Weekly - Stage - Theater Reviews
- by Deborah Klugman (9/10/07)
Writer Martin Crimp's diabolically funny adaptation of Molière's classic transposes the action from the 17th-century French court to contemporary London's celebrity stage. Alceste (Nick Cagle), the play's pivotal character, hates people. He's a British playwright who despises all of society's courtesies and conventions if they deflect from the brutal truth of human cold-heartedness, which means he loathes society as much as the people who occupy it. Short-fused and judgmental, he's smitten, ironically enough, with the town's most superficial and scintillating hottie of the moment, an American film actress named Jennifer (Samantha Sloyan).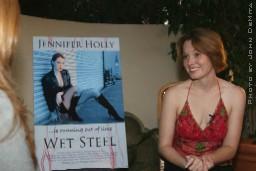 Pursued by scores of men, this self-assured siren drives Alceste crazy with jealousy merely by posturing as her coquettish and emotionally elusive self. No one's fool, she is as much master of the devastating putdown as her intense, pretentious wooer - a circumstance that ultimately provokes a comparison between Alceste's insufferably humorless morality, however sincere, and her sparkling, amoral charm. Written in verse and as witty and wickedly mocking as the original, the play takes aim at many of our own cultural icons, some by name - David Hare); others by inference — Steven Spielberg. Both Cagle and Sloyan deliver nuanced performances that illuminate their characters' vulnerabilities. John DeMita directs a strong supporting ensemble that includes Dakin Matthews as a talentless critic who's written a pointless play.
NEW PLACE THEATRE, 10950 Peach Grove St., N. Hlywd.; Fri., 8 p.m.; Sat., 2:30 & 8 p.m.; Sun., 2:30 p.m.; thru Oct. 14. (866) 811-4111.
---
Variety - Reviews - Legit
- by Terry Morgan (9/18/07)
Martin Crimp's adaptation of Moliere's "The Misanthrope" is a glorious exception to the rule that updates to a classic are limited to the infusion of modern-day language. Crimp has preserved the cleverness and the rhyming verse of the play while injecting doses of rude humor. In resetting the story to the entertainment industry, he has created a perfect equivalent to the squabbling, shallow gentry Moliere so memorably skewered. The Andak Stage Company's Southern California premiere production of the play is superb, a hilarious and literate delight that succeeds on every level.
Alceste (Nick Cagle), the titular misanthrope, is an arrogant British playwright who believes in rigorous honesty to the extent that he is intolerably rude to just about everyone. The amiable flatterer John (Daniel Reichert) tries to tone down his friend's severity, as when Alceste mercilessly condemns the work of influential critic Covington (Dakin Matthews; Norman Snow alternates in the role), but John's efforts have no effect.
The only person who can occasionally get through to Alceste is the woman he loves, the American movie star Jennifer (Samantha Sloyan), who's staying in a hotel room in London while promoting a film. When catty rival actress Marcia (Carlyle King; Peggy Flood alternates in the role) insinuates that Jennifer has been unfaithful, however, anger and possessiveness trump Alceste's vaunted righteousness.
Cagle offers a robust perf in the lead, stalking across the stage like a perpetually charging bull, verbally dexterous and speaking the rhyming verse like a perfect aria of rage. A moment later in the play, when Alceste gets violent and is genuinely frightening, Cagle deftly displays the thin line between rigid morality and madness.
Sloyan is appropriately arch and flirtatious as Jennifer, and her delivery of a series of devastating putdowns to Marcia is savage in the most deliciously civilized way.
---
Talkin' Broadway - Regional News & Reviews - Los Angeles
- by Sharon Perlmutter (9/14/07)
What better place for a modern resetting of Moliere's The Misanthrope than our current culture of celebrity? Martin Crimp's adaptation, getting its Los Angeles premiere by the Andak Stage Company, has Alceste raging against a world obsessed with Paris Hilton and Lindsay Lohan -- and how can you not agree?
Indeed, in his early scenes, Nick Cagle's Alceste seems an admirable enough protagonist. While most people appear to be on the receiving end of his disapproval, his impassioned revulsion comes from a good enough place. He's intelligent, holds himself up to a high moral code, and simply expects honesty and honor from those around him. When others fail to live up to these ideals -- which appear to him to be easily-obtainable -- conflict results. He's like television's Dr. House -- he's indisputably an ass, but one who is undeniably fun to watch.
There are two people whom Alceste allows into his inner circle. One is his friend, John, a gentle soul who mediates between an angry Alceste and an unsuspecting world. Played by Daniel Reichert with infinite patience, John is a decent fellow who both accepts Alceste for what he is, and tries to keep him from antagonizing everyone he meets. And then there's Jennifer, an American flavor-of-the-month movie actress who has taken British playwright Alceste as her lover. Samantha Sloyan's Jennifer is, on first impression, sexy, modern, and flirty. Her appearance brings to mind a young Cameron Diaz, and she favors nearly everyone with a smile that seems to say, "we're the closest of friends." But she can also speak her mind as fearlessly as Alceste, and you can easily see where the two might connect on a fundamental level.
Things are fated for trouble between Alceste and Jennifer, as the otherwise-perceptive Alceste has a massive blind spot when it comes to Jennifer -- and when Jennifer seems equally happy surrounded by sycophants as she does alone with Alceste, our misanthropic anti-hero finds himself competing for Jennifer's attention against everything he detests.
---
Los Angeles Times - Calendar - Theater Beat
In "Le Misanthrope," Molière's Parisian aristocrats are updated as entertainment industry figures (Daniel Reichert, left, as John, and Nick Cagle as Alceste). Catherine Cavadini plays an unscrupulous reporter. (John DeMita / New Place Studio Theatre)
- by Philip Brandes (9/14/07)
How fortunate that hypocrisy never goes out of style — it affords enduring relevance for the satirical plays of Molière and job security for those who stage them. The latest beneficiary is NoHo's Andak Stage Company, which brings classically trained precision to Martin Crimp's icily smart and stylish postmodern update of "Le Misanthrope."
True to the caustic irreverence of his source, Crimp's verse adaptation reinvents Molière's assault on social pretense and double standards as a topical skewering of showbiz players and hangers-on. In this ultrasuperficial setting, Crimp transforms the moralistic title character, Alceste (Nick Cagle), into a British playwright bent on defending his artistic integrity against crass commercialism.
The original text's philosophical inquiry into the role of virtue (if any) in society gets modernized in heated debates between the inflexibly idealistic Alceste and his friend John (Daniel Reichert), a pragmatic relativist.
Despite Alceste's foolish extremism, Cagle keeps him likable, especially in his tortured attempts to rationalize his infatuation with rising movie starlet Jennifer (Samantha Sloyan), the modern incarnation of Molière's social-climbing coquette.
The rest of Molière's stereotyped 17th century Parisian aristocrats likewise map neatly into familiar entertainment industry figures — a sycophantic agent (Norman Snow or Brian George), a sleazy critic (Dakin Matthews, trading off with Snow) hocking his own mediocre script, an unscrupulous postfeminist reporter (Catherine Cavadini), a coke-dealing actor (Harris Matthews), and Jennifer's pretentious acting teacher (Carlyle King or Peggy Flood), who upbraids her ex-student for "selling out" her talent while scheming — like everyone else — to seduce her.
---
ReviewPlays.com - Pick of the Week
- by Jose Ruiz (9/--/07)
A couple of years ago Andak Stage Company presented "San Fran Scapin", a wild takeoff of Molière's "The Trickeries of Scapin", with characters that were an absolute caricature of the original, but still stayed within the story. It was a definite hit. This new adaptation by Martin Crimp of yet another Molière play keeps the string going, providing an evening of theatre that shimmers with excellent performances. Never mind that this story was originally produced in Paris in 1666 with Molière himself playing the lead – this updated version is fresh and contemporary proving once again that costumes may change, language may evolve, and even social mores will make sharp turns, but the basic nature of people and their reactions stays the same across time.
Alceste (Nick Cagle) is a British playwright in love with Jennifer, an American movie star. In spite of his success, he is a malcontented misanthropic individual given to speaking his mind with little regard as to how others will react. Jennifer is an actress (Samantha Sloyan) whose favorite word is "ME" and in spite of her youth, has managed to surround herself with people who, for reasons of their own, put up with her and give her the adulation she craves. Alceste is nowhere near the tender lover women crave, making demands of her but she has learned to deal with him since he provides the surroundings she likes.
Jennifer loves the flirtatious life, assuring Alceste it's all in fun, much to his annoyance, and she has become an expert at manipulating others. However, Julian (Harris Matthews) and Alex (Norman Snow), erstwhile friends, make a wager as to who will be the first to bed her, and another of her many admirers, an influential critic named Covington (Dakin Matthews), brings a script to Alceste for an "honest critique". Alceste hates the script and promptly tells him so, enraging Covington to the point that he later sues for defamation of character.
---