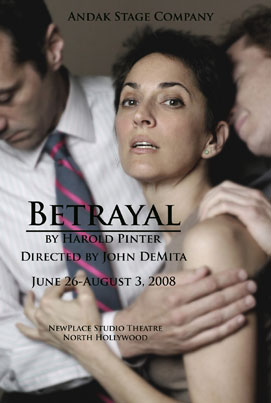 ANDAK STAGE COMPANY
presents the 30th anniversary production of
Betrayal
Written by Harold Pinter
OPENING Saturday June 28th, 2008
at
NewPlace Studio Theatre in the NoHo Arts District
---

---
The Show • Cast & Crew • In the News • Photo Gallery
Opens: Saturday, June 28, 2008, at 8:00pm
Previews: June 26 & 27, 8:00pm
Plays: Thursdays - Saturdays at 8:00pm; Sunday matinees at 2:30pm
Closes: Sunday August 3, 2008
Ticket price: $25; group, senior, student, and industry discounts available.
Reservations: Call (866) 811-4111 or purchase online. No service charge to ticket buyers.
Location: NewPlace Studio Theatre - 10950 Peach Grove St., N. Hollywood, CA 91601
---
The Play: The bittersweet tale of a nine-year love affair between a literary agent and his best friend's wife, told in reverse chronological order. A Pinteresque exploration of the simultaneous predictability and unfathomability of the human heart.
Playwright: Harold Pinter is the 2005 Nobel Prize winning playwright, whose dark, complex, and ambiguous plays have challenged audiences for five decades. His 29 plays also include The Birthday Party, The Homecoming, Old Times, No Man's Land, and Celebration. He also wrote the screenplays for The Servant, The Go-Between, and The French Lieutenant's Woman. He has also been active as an actor, director, and most recently as a political activist.
Director: John DeMita has directed over twenty productions, including most recently Martin Crimp's critically acclaimed The Misanthrope for Andak Stage Company and As You Like It at the Vital Express Center in Valencia. As an actor, he appeared in the Andak Stage Company world premiere production of A Magic Christmas. He has also performed with the Antaeus Company, and at the Geffen Playhouse, American Conservatory Theater, Seattle's Intiman Theater, the Oregon Shakespeare Festival, and the Williamstown Theater Festival, among others. On television, he played Marine Colonel Clifford Blakely for the final four seasons of the CBS series JAG. In addition, he was series regular on Comedy Central's The Clinic, and has guest-starred in numerous films and television shows, most recently CSI and the short-lived series Eyes. As a voice actor he has played roles in Disney's Lilo and Stitch, Kiki's Delivery Service, Princess Mononoke, Spawn, Aeon Flux, and Final Fantasy: The Spirits Within, and was the voice of action star Jet Li in 11 movies.
Cast: Nike Doukas, Leo Marks, and Dan Reichert, with Harris Matthews.
The Show • Cast & Crew • Company • In the News • Photo Gallery