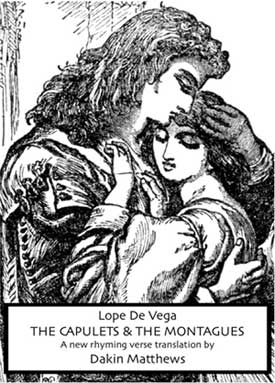 ANDAK STAGE COMPANY
Presents
The Capulets and the Montagues
a modern rhyming verse translation of Lope de Vega's Romeo and Juliet play
Directed by Anne McNaughton
Translation by Dakin Matthews
OPENING WEEKEND January 29 & 30, 2011
at
NewPlace Studio Theatre in the NoHo Arts District

---
The Show • Cast & Crew • In the News • Photo Gallery
Opens: Saturday, January 29 at 8:00pm and Sunday January 30, 2010 at 2:00pm.
Previews January 27 & 28 at 8pm.
Plays:

| | | |
| --- | --- | --- |
| Fridays | Saturdays | Sundays |
| 8:00pm | 2:00pm & 8:00pm | 2:00pm |
Closes: Sunday, February 27, 2011
Ticket price: $25; group, senior, student, and industry discounts available.
Reservations: Call (866) 811-4111 or purchase online. No service charge to ticket buyers. For more information call: (818) 506-8462.
Location: NewPlace Studio Theatre - 10950 Peach Grove St., N. Hollywood, CA 91601
Amenities: ADA accessible. Gated lot and street parking. Excellent restaurants nearby.
Press Contact: Judith Borne (310) 305-7888
---
The Play: Andak Stage Company announces its thirteenth production--and its ninth world premiere in this its fourth season--a modern rhyming verse translation of Lope de Vega's Romeo and Juliet play, The Capulets and the Montagues. The production will be directed by Anne McNaughton and will feature a new translation by four-time-award-winning translator Dakin Matthews.
Lope's version was written about 400 years ago, some fifteen years after Shakespeare's, and was based not on the Shakespeare but on the same source material. But where Shakespeare saw romance and tragedy, Lope saw comedy and even farce. There's not only a happy ending, but also surprisingly hilarious hi-jinks along the way. In other words, Romeo and Juliet as you've never seen them before.
The show will feature an original score by composer Carl Smith, costumes designed by Dean Cameron, and stage combat from Fight Master Peter Katona.
After its run in Los Angeles, the Company has been invited to participate for the third time in the International Siglo de Oro Festival of Spanish drama at the Chamizal Theatre in El Paso, Texas. The Andak Stage Company will conduct outreach programs on March 4 and perform The Capulets and the Montagues on March 5; it will be the only English-speaking company represented at the Festival.
---
Lope de Vega was born in 1562, a year and a half before Shakespeare, and was the most prolific writer of plays in the Golden Age of Spanish theatre. His work created the form of the Spanish comedia and set the standard by which all succeeding plays were judged. He was a childhood prodigy and continued writing--plays, novels, poetry, and a vast correspondence--up to his death at 72 in 1635. He lived a busy and scandalous life, sailed with the Armada, took holy orders (in 1614) after the death of his second wife, but continued to carry on an affair with his last mistress and to care for their (and other of his) children. Between 300 and 400 of his full-length plays still survive (the number is vague because of many false attributions) and these may constitute only a fourth of his actual dramatic output, His most familiar plays to the English speaking world are Fuente Ovejuna (The Sheep Well) and The Mayor of Zalamea. He wrote this play more than a decade after Shakespeare's Romeo and Juliet, and it is unlikely he was aware of the earlier play, though both he and Shakespeare used the same source story.

Anne McNaughton (Director, Co-Producer) is the Associate Artistic Director of Andak Stage Company and directed its previous productions of Spite for Spite and The Bay At Nice, and world premieres of The Prince of L.A., The Savannah Option, A Magic Christmas, Don Juan The Trickster of Seville, The Letters, and her own Molière update, San Fran Scapin. She was the Artistic Director of the Valley Shakespeare Festival in Saratoga and a founding member of both the Antaeus Company and John Houseman's Acting Company, for which she directed U.S.A. off-Broadway. She was a Resident Director at San Jose Rep, California Actors Theatre, Berkeley Stage Company, and Berkeley Shakespeare Festival, and taught and directed in the American Conservatory Theatre's advanced training program. She is a member of the first graduating class of the Juilliard Drama Division and holds a graduate degree in directing from Stanford University. Her award-winning productions in the San Francisco Bay Area include Who's Afraid of Virginia Woolf, Richard III, Artichoke, and Letters Home. Most recently, she directed The Prince of L.A. and Collected Stories at the Old Globe, and The Liar, The Proof of the Promise, Trial By Jury, and The Will for the Antaeus Company.

Dakin Matthews (Translator, Co-Producer) is Artistic Director of Andak Stage Company, former Artistic Director of California Actors Theatre, Berkeley Shakespeare Festival, and the Antaeus Company, and an Emeritus Professor of English from Cal State, East Bay. He has completed verse translations of six seventeenth-century Spanish comedies, four of which have had professional, award-winning productions. He is also an actor, director, playwright, dramaturge, teacher, and Shakespeare scholar. As an actor for such companies as ACT in San Francisco, the Old Globe in San Diego, the Center Theatre Group in Los Angeles, South Coast Repertory Theatre, and numerous summer Festivals, he has specialized in Shakespearean roles, including recently Leonato in Much Ado About Nothing (Shakespeare Center of L.A.), King Lear for the Antaeus Company, Antigonus in The Winter's Tale (Bridge Company World Tour), and Warwick and Glendower in his own adaptation of Shakespeare's Henry IV at Lincoln Center Theatre (multiple Tony Awards), receiving a Drama Desk award for the adaptation and a Bayfield Award for his performance. He is a member of both the Motion Picture and Television Academies, and has appeared in over twenty-five films (including True Grit, 2010) and two hundred fifty television shows. He has directed at ACT, Trinity Rep, Denver Center Theatre, San Jose Rep, the Old Globe, California Actors Theatre, Berkeley Shakespeare Festival, and many others. His play Uncommon Players was commissioned and produced at the Old Globe. His comedy The Great Fugue was premiered in ACT's Plays in Progress program. Two more plays, The Savannah Option and A Magic Christmas, have been produced by Andak Stage Company. His most recent verse-drama The Prince of L.A. was produced in Fall, 2005 at the Old Globe. He has dramaturged Shakespeare for Jack O'Brien, John Rando, Darko Tresnjak, and Daniel Sullivan, including the Denzel Washington Julius Caesar on Broadway. His handbook on verse-speaking Shakespeare Spoken Here has been used in universities and training programs throughout California; he has given master classes in Shakespearean acting across the country and around the world and has taught and directed in professional training programs at The Juilliard School, American Conservatory Theatre, Cal Arts, and USD/Old Globe.
---
Cast: [The play will feature Nicol Zanzarella-Giacalone and Benny Wills at the lovers and John Achorn and Micheal McShane as their respective fathers. Also in the cast are Brett Colbeth as Benvolio, R. Scott Thompson as Paris, Etta Devine as Celia, Bruce Green as Marín, and Drew Doyle and Kellie Mattson in multiple roles. Additional casting to be announced at a later date.
Staff: Composer: Carl Smith; Sets & Costumes: Dean Cameron; stage combat: Peter Katona
The Show • Cast & Crew • In the News • Photo Gallery