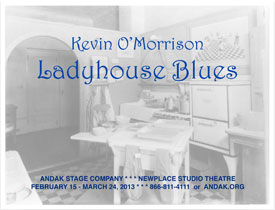 ANDAK STAGE COMPANY
Presents
Ladyhouse Blues
Written by Kevin O'Morrison
Directed by Anne McNaughton
OPENING: February 16, 2013
at
NewPlace Studio Theatre in the NoHo Arts District

---
The Show • Cast & Crew • In the News • Photo Gallery
Opens: Saturday, February 16 at 8:00pm and Sunday February 17, 2013 at 2:00pm.
Previews February 15 at 8:00pm & 16 at 2pm.
Plays:

| | | |
| --- | --- | --- |
| Fridays | Saturdays | Sundays |
| 8:00pm | 2:00pm & 8:00pm | 2:00pm |
Closes: Sunday, March 24, 2013
Ticket price: $25; group, senior, student, and industry discounts available.
Reservations: Call (866) 811-4111 or purchase online beginning January 14. The physical box office at the theatre will also be open one hour before each performance. No service charge to ticket buyers. For more information and group ticket sales call: (818) 506-8462.
Location: NewPlace Studio Theatre - 10950 Peach Grove St., N. Hollywood, CA 91601
Amenities: ADA accessible. Gated lot and street parking. Excellent restaurants nearby.
Press Contact: Judith Borne (310) 305-7888
---
The Play: O'Morrison's evocative drama for five women is set in 1919, in the St. Louis "ladyhouses"--so-called because with all the men off fighting, these tenements were almost exclusively occupied by women. In the play, a mother and her four daughters deal with the tensions among themselves, as well as with their continuing worry for her son and their brother, who has been off fighting in the recently concluded war.
Ladyhouse Blues was developed at the O'Neill Center in 1976 and had twin world premieres that same year at the Phoenix Theatre in New York and the Dallas Theatre Center. It has played around the country in the intervening years in regional and community theatres (including a four Jefferson-Award-winning production at Wisdom Bridge in Chicago) and in colleges and training programs. For two of those years, it was the most performed American play in the United States.
---

Anne McNaughton will direct acclaimed actress (and Antaeus Associate Artistic Director) Kitty Swink in the leading role of the mother, Liz Madden, with the rest of the cast made up of young actresses drawn from graduates of the nation's best acting conservatories and from some of L.A.'s prestigious actor training programs, including the Antaeus Academy A2 program. Costumes are by Andak resident designer Dean Cameron, and sets by award-winning designer John Iacovelli.
A2 members Liza de Weerd (Boston University, Collected Stories for Group Rep) and Tro Shaw (Carneige-Mellon University, Anybodys in West Side Story on Broadway) will play the oldest and youngest daughters, Helen and Eylie. Annie Matthews will play the second daughter, Dot. Antaeus Academy student Kaylee Bouwens (Cal State Fullerton and Lakewood Theatre Company) will play the third daughter, Terry.
---
Andak Stage Company was founded in 2004, and has produced thirteen plays since then, including eight world premieres, among them three award-winning productions of new translations of Spanish classics, Anne McNaughton's crowd-pleasing Moliere adaptation San Fran Scapin, the Ted-Schmitt-Award-winning verse drama The Prince of L.A., and the award-winning original musical by Dakin Matthews and B.T. Ryback Liberty Inn. The Company also staged critically acclaimed productions of David Hare's The Bay at Nice, Harold Pinter's The Betrayal, John Lowell's The Letters (another world premiere), Bernard Pomerance's The Elephant Man, and Martin Crimp's modern adaptation of The Misanthrope.
---
The previously scheduled Saturday matinee on June 23, however, will be moved to a special 7:00 PM time on Sunday, June 24, to celebrate Andak's ninth birthday with a special Homecoming Performance for company members.
NewPlace Studio Theatre is located at 10950 Peach Grove St., a mile north of the 101, and just one block north of the Lankershim/Vineland/Camarillo intersection. It is ADA accessible, with a gated parking lot as well as plenty of street parking.
The Show • Cast & Crew • In the News • Photo Gallery