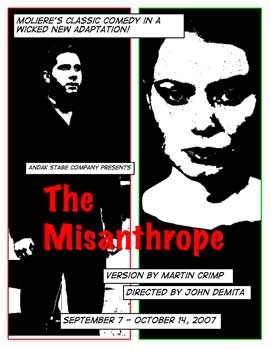 Molière's
The Misanthrope
In a version by Martin Crimp
September 7 - October 14, 2007
at
NewPlace Studio Theatre in the NoHo Arts District
---

---
The Show • Cast & Crew • In the News • Photo Gallery
Opens: Saturday, September 8, 2007, at 8:00 PM
Previews: Friday, September 7 at 8:00 and Saturday, September 8 at 2:30
Plays: Fridays and Saturdays at 8:00; Saturdays and Sundays at 2:30
Closes: Sunday October 14 at 2:30.
Ticket price: $25 with senior, student, and industry discounts.
The Play: A love affair between a misanthropic British playwright and an American movie star challenges the hypocrisy of show business in general and tabloid reporting in particular. Molière's most intensely personal comedy is given a fresh spin in this blistering contemporary adaptation by Martin Crimp.
British-born Martin Crimp won the John Whiting Award in 1993 for his theatre writing, which includes (among others) the original plays Dealing With Clair, Play With Repeats, No One Sees The Video, Getting Attention, The Testament, Attempts On Her Life, The Country, Face To The Wall, Cruel And Tender, and Fewer Emergencies. He was writer in residence at New Dramatists in New York in 1991 and playwright in residence at the Royal Court Theatre in 1997, and has been a busy translator of European playwrights, including Ionesco, Genet, Marivaux, and Chekhov.
Molière was born Jean Baptiste Poquelin in 1622 in Paris to a well-to-do family of upholsterers. After his studies--possibly for the law--he came into an inheritance, rented a tennis court, and began to produce (and act in) plays there as L'Illustre Théâtre. Success was not immediate, however, and after three years the company re-formed and toured the provinces for twelve years. They returned to Paris with both patronage from the king and success, especially for comedy, and thereafter played at the Palais Royale. Molière married a young actress in the company in 1662, and their troubled marriage turned out to be something of a scandal (was she actually his daughter?) as well as a source of some of his most hilarious comic writing. Among his most famous plays are The School for Wives, Tartuffe, The Would-Be Gentleman; and The Trickeries of Scapin (produced by Andak Stage Company as San Fran Scapin in a world premiere translation in 2005. In 1673, Molière fell seriously ill (of lung disease) during a performance of his final play, a farce about a hypochondriac (The Imaginary Invalid), and died the next day.